New Location
All train rides depart from Industry Depot, located at 282 Rush Scottsville Road, Rush NY 14543. We are easy to find on Route 251 from Exit 11 off I-390, just 20 minutes from downtown Rochester. Visit RochesterTrainRides.com for directions, schedules, and fares. ALL ABOARD!
News
October 29-30
10:00am to 5:00pm
Trains Depart Every Half Hour from Industry Depot
282 Rush Scottsville Rd, Rush, NY
OUR MOST POPULAR EVENT:
Enjoy a mile-and-a-half train ride through our rural museum grounds, located in the scenic heart of the Genesee Valley! Ride aboard authentically restored freight train cabooses to the Pumpkin Patch! Every child will visit our Pumpkin Patch to choose a small baby pumpkin to take home to decorate. Complementary cider for everyone. Tour the largest collection of historic trains in New York State. Enjoy our friendly petting zoo after your ride! ZBest Foodz will be providing delicious hot dogs, hamburgers, and more for purchase.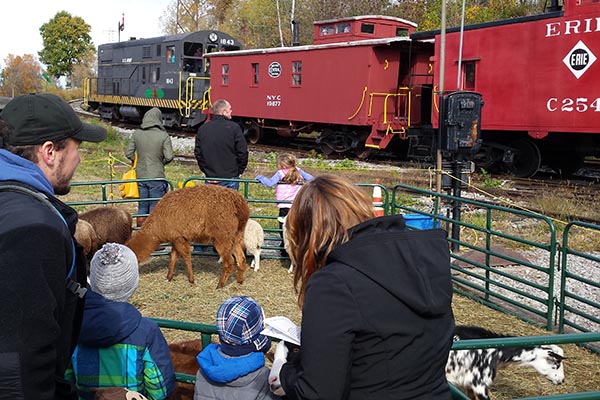 ---
The Rochester & Genesee Valley Railroad Museum will be operating a series of Fall Foliage Excursions with the cooperation of the Livonia, Avon & Lakeville Railroad between Lakeville and Industry, New York. Ride in the museum's reconditioned Budd streamlined coaches built in 1941 for the New York Central's "Empire State Express" hauled by Alco Century diesel locomotives provided by the LA&L. This is your opportunity to take a "rare mileage" trip over the rails of the freight-only LA&L.

Trains will depart from the Conesus Lake Sportsman's Club in Lakeville. Enjoy a 20 mile round trip through the beautiful Genesee Valley country between Lakeville and Industry. Plenty of free parking at Lakeville. All trains run as round trip with no intermediate stops. Refreshments and restrooms are available at Lakeville and on board the train.

Adults – $25.00 ea.
Youth (4-17)/Seniors (65+) – $20.00 ea.
Trains depart Lakeville, N.Y.
10:00am – 12:00pm – 2:00pm – 4:00pm
---
Read more stories on our blog
Event Schedule
Visit Rochester Train Rides for our complete event listing and train ride schedule!
Saturday, October 29th, 2016
Pumpkin Patch Train Rides
Sunday, October 30th, 2016
View all events
...
---